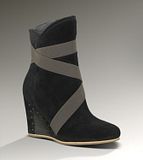 UGG Taleen Boot - Oh, Mummy!
I have a very cool job as a in-costume monster at a year-around horror house in NC. I go back and forth between roles, but my favorite is the part of the feminine Mummy at the monster's ball. The scenario is what you'd imagine the song "Monster Mash" is all about. Anyway, I get to pick the items for my costume and as long as they're feminine and mummy-esque, it's approved for me to wear in the scenarios. Imagine my surprise when I saw the UGG Taleen Boot and work immediately jumped to mind! It was a horror-oriented epiphany… in a good way.
Why were these boots perfect for my upcoming Mummy costume?
Good question! Glad you asked! *wink* When you think of a mummy, it doesn't matter what kind of decrepit condition you picture them in, it's always under wrapping. Lots and lots of wrapping that resembles gauze bandages or really thick toilet paper. Well, that image (in essence) is my costume, except the wrapping is made into a skirt and (conservative) halter top. The
UGG Taleen
Boot was ideal because it looks wrapped in straps. Instead of having to wrap my feet in bandages for shoes, I can tread my way through a crowd of fellow monsters in boots that make me one tall and intimidating mummy babe.
The UGG Taleen Boot is also super soft, and it's something I can wear often because my job is an all-year gig. Plus, they were only $200, where the rest of my costume cost well over $400. Gauze bandages and mummy wrap is expensive! UGG has definitely gained my appreciation by coming out with a pair of boots that I can couple with my work costume. It's not everyday you're paid to dance around for the sake of horror in wedge heels and sleek suede.
________________________________________
Video - the women's Taleen boot from UGG:
________________________________________
For more info on
this boot
and some other styles you might like, visit:
http://boots-boots-and-booties.com/ugg-taleen-boot/