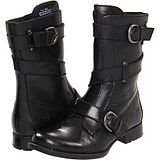 Born Alamid Boot - The Militant Princess
The Born Alamid Boot is the type of footwear that Snow White would have worn... if she were in the business of kicking the butts of villians in her fairytale world. We've dubbed these boots as made for the "militant princess" -- a kind of woman who has a rougher feminine side, complete with a ferocious appearance and a thirst for untamed terrain. The ultimate adventure-driven babe! It's a boot built for soldiers, with civilians in mind.
Compatible with words like sleek, fierce, carnal, and serious, these boots offer the perfect amount of protection to the active woman's feet. Whether she's scaling rocky mountains or traipsing through unknown jungles, she can rest assured that her feet will keep in tip-top shape with boots that make a difference when it comes to shock absorption and support.
Full-grain leather makes up the exterior of the
Born Alamid
Boot, while a comfortable cushioned fabric completes the interior. For accentuation, thick black straps wrap around each boot several times before ending in an adjustable silver buckle -- ideal for women who like to take the snugness of their shoes into their own hands. The curved toes of these boots allows for 'wiggle-room', allowing feet to 'breathe' without becoming sweat-slicked and odoriferous.The moisture-wicking insoles ensure trudging through ponds or hiking during a rainstorm won't have a negative impact on the comfort of your feet or the durability in your boots.
The Born Alamid Boot is reminiscent of what "Sonya" wore in Mortal Kombat. Or they're what you'd imagine G.I. Jane would have opted for. These boots declare to the world that the woman wearing them has a ruthless toughness with undertones of sensible fashion sense. She's a lean, mean, treading machine who can take on the world one leather-clad, combative step at a time.
_______________________________________
Video - the women's Alamid boot from Born:
_______________________________________
For more info on the women's Alamid boot from Born - and some other similar styles of women's boots, visit:
http://boots-boots-and-booties.com/born-alamid-boot/