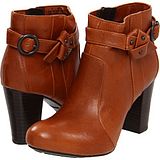 Born Roslyn Boot - Rosy Posy
I remember watching the Mary Tyler Moore show when I was a kid, loving every minute of it and admiring the way Mary always knew exactly what to dress -- conservative, yet cute and fashionable. The Born Roslyn Boot makes me feel like I'm living in those television shows, going through the motions of an independent and pretty woman in the vast city. I often imagine there are hidden cameras following my every move like it's my own TV show; albeit, this is my life -- a reality that I just happen to look stunning for in new boots that compliment me no matter what I wear.
What's so glamorous about the
Born Roslyn
Boot?
Designed from mostly premium leather, these boots resemble a belted blouse or formal party dress in the sense that they're ultra cute, super chic, and very fashionable. They're also affordable for 2012's hottest seasonal footwear, beginning at $185 per pair and increasing in expensive slightly with shipping. Available in bright brown and pitch black, each boot is tied off at the shaft top with a "belt," also known as a thick leather strap. Although, what's unique about these straps is the way they're constructed at the sides to be reminiscent of roses in mid-bloom. It's ended with an adjustable steel buckle and fashionably jutting seams to add new dimensions to the typically flat "face" of footwear.
As a short woman, I've come to love heels, especially when they're attached to boots because stilettos just aren't my proverbial cup of tea. The Born Roslyn Boot has a 3 inch heel made from a mixture of rubber and leather, making it a wedge instead of a straight stick-stiletto heel. There are no worries about tripping, falling over, or just being clumsy in these boots! I can wear them with the greatest confidence, flitting from scene to scene in my mental television show that's all about me, all the time.
___________________________________
Video - the women's Roslyn boot from Born:
___________________________________
For more info on
this women's boot from Born
and some other similar styles, visit:
http://boots-boots-and-booties.com/born-roslyn-boot/