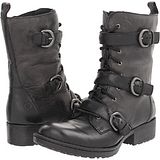 Born Marxia Boot - Booty Kickin'!
As someone who has grown up in the generation where the zombie apocalypse is anticipated rather than feared, I've often found myself wondering what kind of awesome, sexy footwear I'd use to eliminate the undead scum if the worst should happen. The Born Marxia Boot has become my solution to that impending (or never) problem! I know it sounds delusional, but think of Alice in Resident Evil -- she was sensual, beautiful, badass, and could kick the booty of any zombie or mutant creature that ventured her way. She's my idol and the one I'd mimic if the unthinkable ever befell the people of Earth! …Woow. I sound so dorky!
Enough about the zombies! What about the
Born Marxia
Boot?
These boots are constructed from high-quality, premium leather in a combat boot style with 3 adjustable straps for a snugger fit. Each strap ends in an ultra shiny silver buckle, while each boot also laces up the front to provide a militant appearance. I've paired these with my other zombie butt-kicking apparel (short-shorts, tank top, and a thigh-strapped machete) and I look stunning! Truth be told, if anything that was supposed to be dead started crawling towards me, I'd likely run the other direction -- but at least these boots would be the ones that would carry me back home. If straps and laces aren't enough to make your feet feel secure, there are pull tabs on the back of each boot for convenient on and off. Basically, these boots go on overload with all the accents that are normally used to help keep the shoes on your feet -- which is the only negative thing about them.
Rather than look like a complete nerd in my zombie apocalypse uniform, I prefer to wear these around my house. It's not often you see a teenage girl with a machete and a wicked pair of fake blood-caked combat boots fighting imaginary monsters in her front yard. I prefer to keep my weird quirks and these awesome Born Marxia Boot to myself.
_________________________________________
Video - the women's Marxia boot from Born:
_________________________________________
For more info on
this boot and some others
with similar features, visit:
http://boots-boots-and-booties.com/born-marxia-boot/