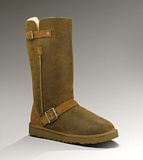 UGG Classic Tall Dylyn Boot - From The Photographer's POV
As someone who owns their own photography business and often does their own advertising, my projected image not only comes from the vivacious and eager nature of my personality, but also from what I wear to photo shoots and interviews. Used to, high heels accompanied any of my interview outfits -- albeit, not always the most practical footwear. I remember actually tripping UP stairs one time (yes, it's possible) while following a client to her in-home studio. How embarrassing! But that was before the
UGG Classic Tall Dylyn
Boot; a pair of shoes that have changed the way I dress just because of their comfort level, sensibility, and overall ability to go with any of my outfits.
At first, the UGG Classic Tall Dylyn Boot looks unappealing -- but that also comes from someone who wears fancy-schmancy, super expensive high-heels most of the time. I NEEDED something comfortable. My feet rebelled every time I went to an interview in heels, and I would return home after hours of being on my feet to discover the worst blisters ever. These boots were different because UGG is a brand name notorious for using traditional sheep-skin as their interior. I was sold on just that! Each boot is super soft on the inside, making it easier for me to stay on my feet for long periods of time.
Instead of being expectant of sores when I get home, I don't even have aches or pains from standing for too long. I've also discovered that these go really well with my typical Autumn/Winter wear -- as well as looking cute with a short, summertime dress or a pair of leggings. It's only been a few weeks, but already, I can say with honesty and conviction that these are the best boots (or shoes, for that matter) that I've ever had the pleasure of owning.
____________________________________________
Video - check out the women's Classic Tall Dylyn boot from UGG:
____________________________________________
For more info on
this boot
or other similar styles, visit:
http://boots-boots-and-booties.com/ugg-classic-tall-dylyn-boot/