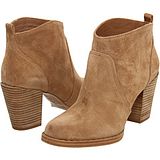 KORS Michael Kors Wayland Boot - Authentic... Since When?
The KORS Michael Kors Wayland Boot is one of the new releases for the summer of 2012 -- something I'm usually overly excited about. However, there are some disappointments every year, and these boots would fall into that category for this new season's line.
Unfortunately, the advertisement deems them "western" or "authentic," but as a history buff AND a fashion addict, I see no authenticity between these boots and the way footwear was designed in times of saloons and noon showdowns. It'd be like comparing a goldfish to a shark -- or Ghandi to Hitler; all things that just aren't proper or correct. If they wanted to really make an impression, they would have sold these shoes with an accurate tagline -- making consumers believe that these were genuine, directly inspired from the Old West.
What does the
KORS Michael Kors Wayland
Boot look like?
Wrapped in leather, these boots are constructed with a pre-dust sheen for a well-worn appearance; a detail that is suppossed to make it appear as if a cowgirl has wandered in from the blowing sand storms and tumbleweeds of the western world. Instead, they just look dirty and in desperate need of a good scrubbing. The stacked heel is a wedge of rubberized hard-wood that ascends to 3 inches in additional stature; another detail that is amiss from the reality of the Old West, as cowboy boots rarely went past the 2 inch mark. The dusty terrain was too rough for heels if you were a true gunslinger. 3 inches and up on footwear was designated for the 'ladies of the night' who made their trade indoors all day.
Overall, the KORS Michael Kors Wayland Boot was a fail. I felt like this company didn't try hard enough to be unique this year. While I still have hope for the brand, I expect these boots will be regifted to someone less knowledgeable about the wild west, and more concerned with how the boots look with their outfit.
__________________________________________
Video - the women's Wayland boot from KORS Michael Kors:
__________________________________________
For more info on the women's Wayland and some other comparable styles, visit:
http://boots-boots-and-booties.com/kors-michael-kors-wayland-boot/