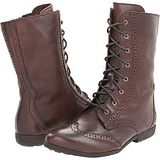 Born Leonis Boot - The Imaginative Impression
When I first laid eyes on the new Born Leonis Boot, I was perplexed by the overall design. It wasn't a masculine pair of boots, and it wasn't exactly screaming, "I'm a feminist!" either. It was the same combination that's often seen for unisex shoes; however, these were different in that the masculine and feminine elements were used differently. Where sneaker companies will strive to make unisex footwear a comforting fit and a neutral color for everyone, these boots are specifically designed for women and yet, they have a clunky, over-sized appeal of a man's hiking (or general outdoors work) boot.
What's so odd about the
Born Leonis
Boot?
The exterior is made entirely from leather. Not weird. Although, the leather is laced up the front of each boot with rustic, brown laces, and the designs along the boots' shaft was stamped to resemble lace. Albeit, they remind me more of the Valentine's cards that Elementary School kids used to have to make out of construction paper, complete with the zig-zag scissors and the hole-puncher. Fond memories, yes. A design that belongs on a pair of butch-style boots, not so much. They're kind of a gender bender. I think almost anyone could wear these (male or female) if they selected their size correctly.
I can appreciate the interior of the Born Leonis Boot. Rather than resembling the tough outer shell, this footwear is cushioned with a padded insole to protect feet from the usual wear and tear. It's safety from the dreaded "breaking new shoes in" blisters. Overall, these boots don't rank very high on my list of must-have footwear because of their odd appearance. Instead of making an androgynous shoe for women, they should have stuck to either all-leather like a hiking boot, or feminine like a high-heel. This mixture of those two elements is just confusing.
______________________________________________
Video - the women's Leonis boot from Born:
______________________________________________
For more info on
the Leonis and other similar styles
, visit:
http://boots-boots-and-booties.com/born-leonis-boot/