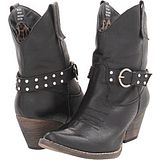 Volatile Hustle Boot - The Western Love Story
Some footwear is best described through song; however, as I'm sure you won't be able to hear me, the following review will have to suffice in telling how awesome the
Volatile Hustle
Boot is. These boots seem to be straight out of a country love song, complete with mental images of moonlit walks down farm roads and summery sundresses speckled with microscopic drops of mud from puddle-hopping. Reminiscent of my evenings spent frog-gigging with the rough-and-tumble farmer boys from next door, these boots bring back memories of crickets and warm pond water.
Studded with gems on premium black (or brown) leather, the Volatile Hustle Boot is ideal for boondock gals with an edge. My summer dresses were always darker -- my hair always done up in the most fashionable city fashion like in those teen magazines -- and of course, my boots always sported a little something extra to prove to the locals that I was more than just a rustic chick with a sweet southern twang. These boots speak the volumes of my personality that I've always wanted to declare, without being obnoxious.
The one downside about the Volatile Hustle Boot would be in the sizing. However, it's a slight dilemma that was easily remedied. Instead of posting bad reviews and ranting to the manufacturers, I replaced the ones I had ordered with a size down. They fit like a glove!
With a skinny ankle and a moderately narrow heel, I often have trouble finding the perfect pair of boots, especially when it comes to going back to my "Mayberry-esque" town for a family reunion. The footwear must be comfortable enough for dancing, and of course singing those tried-and-true country classics.
The compliments I received from my relatives were flattering, but the best came from one of the aforementioned farm boys -- all grown up (and very single!) Needless to say, I'll be wearing the Volatile Hustle Boot on our first date next week.
___________________________________________
Video - the women's Hustle boot from Volatile:
___________________________________________
For more info on this specific style, or to compare styles to the women's Hustle, visit:
http://boots-boots-and-booties.com/volatile-hustle-boot/