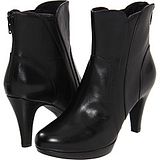 Indigo by Clarks Wessex Martlet Boot - From The Preacher's Daughter
I know what you're thinking... "The
Indigo by Clarks Wessex Martlet
Boot is too risque for a Preacher's daughter. She must be one of those wild girls!" Wrong again. I uphold my religious duties above all else, and I have the deepest love and approval of my family -- no matter what I wear. With that said, I adore a great pair of boots, especially when I know they'll go great with my Sunday best; a floral sundress that reaches just above my knees and black tights. I've added these boots to the ensemble for a look that is edgy, while still being 'Church tame.'
I think most people have misconceptions about the children of ministers and those who work in the Church. I'm here to set the record straight -- at least where my family is concerned. When it comes to these boots, my mother and I share the same taste. She loves to wear these just as much as I do, and we often switch off wearing them on the weekends. It's kind of like having joint custody of a child... or at least a beloved pet.
What does the Indigo by Clarks Wessex Martlet Boot look like?
Available in a shining black, these boots are high heels with a stature boost of 3 and a half inches. The elasticized upper section of each boot allows for convenient removal and customizable snugness, while a back zipper ensures feet don't slip when walking. $145 might seem like a steep price at first, but these are above average on the scale of comfortable heels. Instead of being tight at first and leaving behind raw spots or blisters, the Indigo by Clarks Wessex Martlet Boot curved to fit the contours of my feet and ankles. Extra padding on the insoles provided arch support, as well as optimum protection from the aforementioned hazards of 'breaking in' new shoes.
_________________________________________
Video - the women's Wessex Martlet from Indigo by Clarks:
_________________________________________
For more info on this boot and some other similar to it, visit:
http://boots-boots-and-booties.com/indigo-by-clarks-wessex-martlet-boot/