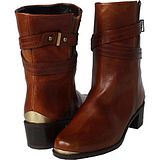 Stuart Weitzman Slamdunk Boot - Nothing But Net!
The
Stuart Weitzman Slamdunk
Boot is a testament to the everyday sport of being fashionably awesome. Better than any 3 point shot or free throw, these boots are a combination of steampunk approach and western saloon appeal. No other footwear can be deemed quite as imaginative and functional as this pair of shoes.
What does the Stuart Weitzman Slamdunk Boot look like?
Compromised of a mixture of premium leather and subtle metal, these boots boast sensible straps to wrap around each shoe's shaft. A vintage buckle allows for an adjustment in fit and comfort, while a hint of gold-brushed metal is nestled towards the heel and toe. For extra snugness, a golden accented side-zipper graces each boot beneath the strap. The insole is lined with leather and padded lightly with a cushioned fabric for optimum shock absorption. The heel is a rubberized wedge of almost 2 inches of added height.
The premise and concept behind the shoes are to provide a boost to confidence while offering a sensible method of mobility. Your feet are well-protected -- to the curviest arch and the flattest toe. There's a certain grace about these boots that aren't prevalent in others of their size. Most boots like these are clunky and loud, resonating an annoying *clomp* with every step. The Stuart Weitzman Slamdunk Boot is quiet as a woman walks -- as if she's treading on pillows or clouds.
Where can I wear the Stuart Weitzman Slamdunk Boot?
The better question would be, where can you not wear the Stuart Weitzman Slamdunk Boot. These boots are durable with everything outfit -- designed specifically to make all ensembles a little better with a tinge of old-world edge. These boots will elicit compliments galore no matter where you wear them. The brand name prides themselves on being able to make a woman feel beautiful on her worst days. These boots go a long way to carry out that mission -- nurturing a woman's mood with every appreciative glance and kind word she receives based on the greatness of her footwear.
___________________________________________
Video - the women's Slamdunk boot from Stuart Weitzman:
___________________________________________
For more info on this boot and some styles similar to the women's Slamdunk, visit:
http://boots-boots-and-booties.com/stuart-weitzman-slamdunk-boot/