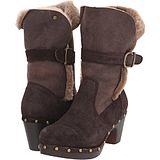 EMU Inverleigh Boot - Holy Sweating Toes, Shoeman!
The
EMU Inverleigh
Boot is perfect... if you're used to trudging around in subzero temperatures with extremely warm feet. Unfortunately, for the suburban or city girl in the warmer parts of the U.S., these boots are less than ideal. The latter will find their toes sweating, their feet smelling like strange cheese, and their ankles indented from the sheer puffyness of each boot.
It's the equivalent of strapping wool-filled pillows around your lower legs -- which would be beneficial for women in Alaska, Antartica, or even the colder months in Minnesota. These boots can sap the energy out in the sweat on your feet if worn for too long in hotter climates.
When it comes to fashion, the EMU Inverleigh Boot is really cute! The soles are outfitted like classic clogs with a modern womanly twist -- meaning studded with gems and lifted 2 and a half inches off the ground by a sleek heel. A thick strap wraps around each boot to reassure a snug fit, aided by a small snap-button towards the boot's top. These buttons allow you to fold down the EMU Inverleigh Boot, turning it from mid-calf footwear to a fluffed bootie. The cuffed look also provides more air circulation, cutting down on the risk of sweaty, smelly feet.
Where should I wear these boots?
As mentioned above, sunny and warm weather aren't the best conditions for the EMU Inverleigh Boot. Instead, save these trendy duds for a walk through fresh snow or a vacation to the local ski slopes. How about taking that special honeymoon to watch the Aurora Borealis? Or go see penguins up close and personal in their natural habitat? If your stubborn fashion sense prevails, try to wear these shoes inside with the A/C running -- if not, there's a chance your footwear will be dubbed stinky with sweat forever after.
________________________________________
Assuming that we haven't scared you off at this point, here is a video on the women's Inverleigh boot:
________________________________________
For more info on this women's boot, visit:
http://boots-boots-and-booties.com/emu-inverleigh-boot/