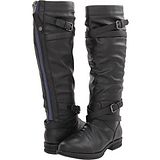 Madden Girl Zerge Boot - Intended For The Tall
I'm a shorty -- and I'll be the first to joke about it and admit it. I skim a healthy 5 feet while standing flat-footed; therefore, over the years, footwear with a substantial heel has morphed into my greatest stature-boosting companion. The Madden Girl Zerge Boot was a different story -- one where height didn't even come into question because all my mind could think was, "I have got to have these!" Unfortunately, I paid for my lack of good judgment and these beauties now reside with a much taller friend.
Here's what happened:
Brand new at a steal of $89.95, these boots were coming home with me as soon as I set eyes on them. Made from durable and supple leather, each boot is fitted with 4 straps for adjustable snugness and added appearance appeal. There's also a back zipper attached in a subtle contrasting color, lending to the versatile ensemble opportunities.
Silly me -- I didn't try these on before I bought them because I might not have purchased them if I had walked around in the store first. The Madden Girl Zerge Boot engulfs me. I look like a little girl trying on her father's too-large rain boots. Or one of those trinkets where the small faeries are nestled in an expansive high heel. I tried a different combo of a short skirt and these boots -- and still, nothing worked. These just weren't designed to meet the stature of petite women. This sad truth is made worse by the fact that these have very little heel -- more of a rubber wedge, so short ladies will look swallowed and strange.
I'd love to get a pair of the
Madden Girl Zerge
Boot if the manufacturers would revamp their design to be shorter-than-average friendly. As it stands now, all I can do is watch with envy as my friend (of 5 foot 8) wears these amazing boots. At least she was grateful.
_________________________________________
Here is a video of the women's Zerge boot - get an all-round look at it:
_________________________________________
For some shopping options and style comparisons to the women's Zerge boot, visit:
http://boots-boots-and-booties.com/madden-girl-zerge-boot/