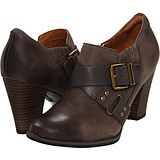 Indigo by Clarks Heath Woodlark Bootie - The Rustic Beauties
The
Indigo by Clarks Heath Woodlark
Bootie is a design meant for the modern, fashionable steam-punker -- one who favors a rustic, vintage style in combination with uo-to-date fabrics. The new-age tribute to an old-world era rife with intentional fashion faux pas, these booties nurture diversity in a way that makes for constantly beautiful ensembles.
Assembled from a mixture of leather lining and allover suede, the Indigo by Clarks Heath Woodlark Bootie boasts a 3 inch stacked heel, complete with a rubber outsole for shock absorption and optimum traction. A zipper is hidden along the inside of each bootie, ensuring their sleek appeal remains undaunted by extra material. Two heavy duty straps criss-cross near the toe of each bootie -- while mostly for appearance purposes only, these straps offer a slight adjustment to snugness with flexible gold-brushed buckles.
The bottoms to each Indigo by Clarks Heath Woodlark Bootie is especially interesting because of the beautiful floral inlay. When walking through soft terrain, imprints of flowers and small vines will glorify your every step -- set into the ground through carved prints on the sole of each shoe. Instead of waltzing on a blanket of rose petals, you can create your own garden on the heels of all your strides.
Described as "positively vamp," the Indigo by Clarks Heath Woodlark Bootie is what you'd imagine sensual vampires, alluring sirens, or devilish succubi might wear for an evening out. Even pirate lasses will find these booties are the reason for their amorous moods when the ship docks and the moon's shining in their lover's eyes. These booties can play a huge part in the fantasy life of every woman, transforming them from the frumpy housewife to the desirable temptress. Your mood boost is just a step away when it comes to parading confidently in the Indigo by Clarks Heath Woodlark Bootie.
__________________________________________
Video - give a check-out to the women's Heath Woodlark:
__________________________________________
For more info on this or other similar women's bootie styles, visit:
http://boots-boots-and-booties.com/indigo-by-clarks-heath-woodlark-bootie/