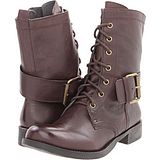 Nine West TechnoBeat Boot - The Safari Clompers
Imagine -- you're tromping through one of the last remaining rainforests, on an expedition to save the world and fight the crime of pollution, as per usual. It's a commonplace sort of day and you're wondering when lunch will roll around, when suddenly you feel a quick pressure and release against your foot. One of your group yells something about a venomous snake and you look down as a reptilian tail disappears behind a bush. A wetspot marks where the venom would have made contact with your flesh if not for the durable
Nine West TechnoBeat
Boot you've been wearing. You vow to never part with this lifesaving footwear again.
While in the real word -- Okay, so that will probably never happen, but it's quite a thought for those who want to defend our world and clomp through unknown places. Even if you want to appear like a humanitarian or activist, these boots will give you an authentic "I care so much" look, complete with a touch of fashion sense.
Strapped with a buckled accent and constructed from thick leather, these boots are above ankle-length with side zippers for a snug fit. Just-for-show laces add a safari appeal, and a cushioned insole allows your feet to remain moisture-free and comfortable through every second of your whirl-wind adventures.
Hopefully, you'll never need to test their strength against an industrial pair of reptile fangs -- or any other dangers of the wild, but it's good to know you're prepared for anything. A rubber and leather mixed sole adds a boost of wedged height to your everyday stature; an added benefit when traipsing through areas of rough brush or tough twigs. The Nine West TechnoBeat Boot may have a name fit for the latest rave party, but their appearance fits more in the wilderness -- fighting for the rights of near-extinct animals and centuries-old trees.
_____________________________________________
Video - the women's TechnoBeat boot from Nine West:
_____________________________________________
For more info on the TechnoBeat and other similar styles, visit:
http://boots-boots-and-booties.com/nine-west-technobeat-boot/