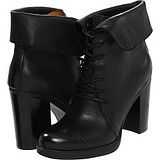 Nine West Ditcha Boot - For The Festive Woman
Are you a weekend witch? Do you dress up for odd festivals, decked out in full bewitched garb for the peasants to admire? Then you'll find pleasure in wearing the
Nine West Ditcha
Boot; a pair of shoes reminiscent of witch attire when magic and mysticism were kept behind closed doors.
Step into the spotlight and face the confused torch-carriers with footwear that declares your strength as a diverse, complex, and beautiful strong-willed woman. Give those villagers something to admire while your feet dangle from a broomstick whilst gliding overhead. No black cats, bubbling cauldrons, or wart-covered noses required!
What makes the Nine West Ditcha Boot so special?
These boots are charming, casting a spell on your heart (and your feet) at first glance. Sewn together intricately using the highest grade leather, these boots are built to last through the rain and shine. A foldover top provides Old-Salem appeal, while a 3 inch heel descends from a synthetic rubberized base -- adding to the comfort and sensual appearance of each boot. Available in 4 different colors (black, grey, green, and brown), each boot is laced up; a feature that adds to the old-fashioned attraction of this footwear. Plus, each insole is cushioned with shock absorbent padding to keep feet protected and moisture-free.
If witchy buisness has never been your scene, the Nine West Ditcha Boot is also perfect when paired with new-age gypsy duds. Instead of donning your ragged sandals to brew a batch of candles, or wearing sneakers to set your windchimes swinging, grab a pair of the Nine West Ditcha Boot and remember the old-world. A time when gypsies wore what suited their personalities best. Albeit, these boots are a far more beautiful and luxurious choice than the shoes most vintage boho babes wore. This is footwear that was meant to be cherished as your closest companion.
____________________________________
Video - here is the women's Ditcha boot from Nine West:
____________________________________
For more info on this boot or others similar in style to the women's Ditcha, visit:
http://boots-boots-and-booties.com/nine-west-ditcha-boot/