Madden Girl Ablee Boot - Dead or Alive!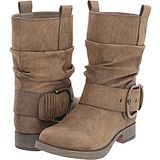 To say that I'm a Bon Jovi fan would be putting it mildly. I'm obsessed! His music -- his movies -- his entire outlook on life; all of these things send tingles down to my toes. One of my favorite songs of his is "Dead or Alive" -- therefore, when I saw the Madden Girl Ablee Boot, that tune was the first one to come to mind. It is for this express reason that I had to have these boots, vowing to wear them to a Bon Jovi concert in the man's honor whenever I got the chance again to see his tour. Until then, I'm left to dream -- but the added benefit is, I actually really enjoy these boots and how simple they've made my life over the past week or so.
At $69.95, I considered the
Madden Girl Ablee
Boot a steal. I've bought footwear that wasn't half as comfortable but seemed to cost way more than these boots -- those are now sitting in the back of my closet, while these shoes have taken front and center in my wardrobe. It's not unusual to find me dancing along to the greatest hits of Bon Jovi in my living room, sporting these boots and swaying to the melodic sweetness of each amazing tune. I get all starry-eyed just thinking about it! Back to the boots!
What I love the most about these isn't that they remind me of my favorite song, but they're rustic, seeming to have come direct from the times of noon showdowns and saloons. I could imagine sauntering into a wild western town with this footwear brazenly displayed on my feet -- the sun's beating down and my face is plastered to the WANTED posters on every stoop. It's a silly fantasy that will likely never come true -- but the point is, the Madden Girl Ablee Boot makes me daydream and I love what comes to my mind when I'm wearing them.
________________________________________________
Video - check out the women's Ablee boot from Madden Girl:
________________________________________________
For more info on this boot and some other styles similar to it, visit:
http://boots-boots-and-booties.com/madden-girl-ablee-boot/