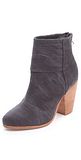 Rag & Bone Classic Newbury Bootie - Instant Classic!
Some footwear falls far from the mark of excellence when they're first released to the public -- fortunately, the
Rag & Bone Classic Newbury
Bootie isn't one of them. Instead of falling flat, these booties soar above the rest to land on a pedestal labeled "instant classic." Made from authentic lamb-skin leather, these booties could have been worn in the rebellion boom of the early 70's -- with the pin-up girls in their leather hot-pants or the chicks racing sportscars on the local Thunder Road with the best of the boys.
Tomboy-ish, maybe. Masculine, definitely not. These booties are for strong women with a wild streak. You can be both dazzling and daring with each step of the Rag & Bone Classic Newbury Bootie -- footwear that encourages you to live life as an adventure. Instead of wandering the boardwalk with flip-flops, be the ultimate beach-babe with heels that make the most out of a bikini. However, if you're opting for the bodacious beach look, don't walk in the sand. Keep your booties to the boardwalk.
Designed to be both dainty and savage (in a good way), these booties have an insole that's cushioned specifically to mold to the contours of your feet. Your day won't be spent worrying over blisters and aches! The padding comforts and nurtures while giving you optimum shock absorption for long hours of standing or walking.
The Rag & Bone Classic Newbury Bootie is a proverbial fish named unique in a sea of ordinaries. A zippered back to each bootie ensures a snug fit, while a wedge heel adjusts your stature to an additional 3.2 inches in height. Hugging your ankle and foot like a comfortable second skin, each bootie has a clean-cut appeal -- proclaiming you've got a heart of gold, but an attitude to back it up when necessary.
____________________________________________
Here is a video of the women's Classic Newbury:
____________________________________________
For more info on this and other women's similar styles in booties, visit:
http://boots-boots-and-booties.com/rag-bone-classic-newbury-bootie/