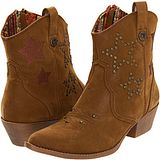 Blowfish Lasso Boot - Cute For Teens
The
Blowfish Lasso
Boot is footwear you'd expect to see on a 15 year old girl -- not her 40-something mother. Which is why I bought these for my daughter last spring. She said they remind her of the cowgirl boots from the new Footloose film (a movie I've refused to see because the first one was just fine without a remake). I asked her to explain these boots to me so I could explain them to an audience of like-minded mothers.
The best review I could get out of her was, "these boots are totally awesome!"
So, I've done some research and come up with what I think she would have said if she knew I was posting this online -- and if she were a little older than 15. *laughs* At least I hope so.
-- The Blowfish Lasso Boot puts the fun in functional. From what I've observed, these boots are made to resemble vintage wild-west footwear with a modern touch -- and they're obviously the perfect addition to a teen's wardrobe. Adventurous 40-something women could probably find some weekend use for them, but I'm not one to stray too far from my comfortable and versatile sneakers. However, after trying these on (in secret), I found the material was very soft and suede-like.
Little faux-gem stars decorate each side of the boot -- reminding me of fireworks on the Fourth of July. There's a tex-mex fabric lining the inside that adds a little splash of secret color to these boots; a plus to a girl like mine who loves all things vibrant and beautiful.
They're also not extremely high on the brand name list, meaning their price was lower at $69 and tax only put me at $75. No shipping costs because it was a spring sale! All in all I'd say the Blowfish Lasso Boot was a great investment. Certainly one that I've gotten my money's worth since my daughter wears these whenever she can.
_______________________________________
Video - check out the Blowfish Lasso:
_______________________________________
Get more info on the women's Lasso boot from Blowfish and other comparable styles:
http://boots-boots-and-booties.com/blowfish-lasso-boot/