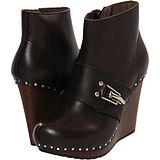 See by Chloe SB19091 3 Bootie - For Appearances Only
The
See by Chloe SB19091 3
bootie is devout clubbing footwear -- meaning the design and comfort is for appearances only! Not to be worn for more than a few hours, these boots were made to make your outfit a little sleeker, sexier, and more sophisticated. Your expectations shouldn't be too high when it comes to footwear like this, because while they're making you look savage and sensual, they could also be doing painful damage to your feet. Which is why the wearer should expect to wear these for brief periods of time where sitting is a definite and dancing the night away is a no-no.
Made from high-quality leather with a 3 inch wedge heel, these boots put strain on your arches from the moment you slip them onto your feet. The side-zippered closure of each bootie will only work if a woman has a certain type of physique. For example, if her calves are a little wide and that extends to her ankles, she'll have an extremely hard time keeping these shoes zippered. Women with larger feet should opt for shoes that are guaranteed to be comfortable, because these aren't it.
Overpriced at $415, they're not made to last -- but instead were designed to be fleeting moment boots; footwear that you'd be remembered for or shoes to make a first impression. They're slightly pretentious and the insole is too lightly padded to provide any real protection from the usual shock of walking for long chunks of time. However, the dark brown color will flow nicely with a form-fitting neutral-shaded dress for a small business venture or dinner out with a group of well-to-do girlfriends.
The See by Chloe SB19091 3 bootie will make you suffer for your beauty. With reviews and horror stories featuring blisters and sore heels, these booties are best kept at the back of your closet -- reserved for crucial moments when there are no other options.
____________________________
Here is a video for this ankle bootie for women:
____________________________
For more info on this and other similar women's styles, visit:
http://boots-boots-and-booties.com/see-by-chloe-sb19091-3-bootie/