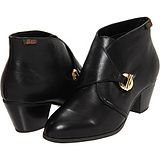 Bass Primrose Boot - The Odd Shoe
The
Bass Primrose
boot is an odd shoe. Assembled from premium leather and polished to a supple sheen, each boot features a foldover of material buckled with gold. The design seems to be a combination of vampiric and modern with a V-shaped back that rises just above the ankle. This is what makes this shoe something strange and unconventional. You don't often see footwear that couples different eras into one. This is footwear you'd expect Jo to adorn in Louisa May Alcott's "Little Women" -- vintage and durable, but edgy.
When it comes to being sensible, the Bass Primrose Boot serves the purpose of walking for long hours, but probably not encouraged. The cushioned padding will last for quite some time if taken care of -- which means standing, walking, or being on your feet in any way for more than 12 hours a day might hinder the padding's overall performance. The sole is flexible for a wide range of movement, while a stacked heel gives a stature boost of 2 inches with an arch and shaft length of 5 inches. This means that these boots are built for women of varying foot sizes -- from the narrowest arch to the widest heels.
The Bass Primrose Boot might not be as prim and proper as what you'd expect from classics like Pride & Prejudice, but this footwear has the warm appeal of timelessness. Jane Austen would have been proud! Instead of being outdated and overlooked, these boots are constructed through modern methods, complete with innovative stitching patterns and a gleaming overall appearance.
Rather than wishing for shoes to complete your antiquarian wardrobe, invest up to $112 into a pair of the Bass Primrose Boot. It might seem a steep price to pay, but with footwear like this, you'll get your worth in spades with everyday wear.
________________________________________
Video - the women's Primrose boot from Bass:
________________________________________
For more info on the Primrose ankle boot from Bass and other comparable styles, visit:
http://boots-boots-and-booties.com/bass-primrose-boot/