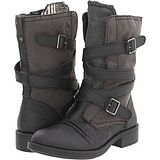 Roxy Biscayne Boot - Biker-esque
The
Roxy Biscayne
Boot is a daydream come true for wanna-be biker babes. Decked out in an allover faux leather (in thoughtful respect for animal rights), these boots are also reminiscent of what soldier ladies dubbed "desert fashion" -- which means footwear built to withstand the heat and grit of sand-covered terrain. Those kinds of shoes are expected to be durable through all temperatures and weather conditions, but fashionable in an edgy, feminine way.
What do these boots look like?
As aforementioned, the Roxy Biscayne Boot is compromised of faux leather on the overall outside, with a cushioned padding on the insole. The inside fabric is cuts of stitched together recycled material (for the green gal in all of us), making each boot unique in terms of color and insole patterns. A lengthy interior zipper also gives women the opportunity to choose their level of snugness, with the help of long buckled straps across the boot's exterior.
Unique in design and convenient to your bank account at the low price of $84 per pair, the Roxy Biscayne Boot is perfect for hiking or other feats of adventure where feet must be protected. Comfortable in all conditions, these boots are also water-proof, allowing you to freely walk through puddles without worrying over soaking socks and pungent boot interiors. Each boot has a slight wedge heel that offers a stature boost of just over an inch, while a wide range of sizes (from 6 to 11) invite women of all shapes to indulge in the Roxy Biscayne Boot's comfort.
On a sliding scale of 1 to 10, the Roxy Biscayne Boot is a solid 8, only because all footwear needs a little wiggle-room for improvement. Whether you're a biking beauty or a militant madame, these boots will keep your feet toasty, moisture-free, and feeling great!
_____________________________________
Video - get a good look at the women's Biscayne boot from Roxy:
_____________________________________
For more info on the women's Biscayne boot, visit:
http://boots-boots-and-booties.com/roxy-biscayne-boot/