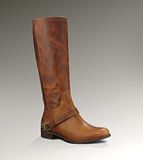 UGG Channing II Boot - Only Halfway Nice
When I first set eyes on the
UGG Channing II
Boot (a birthday present from my sister), I thought the box said "charming" instead of Channing. With this mistaken name in my head, I developed the illusion of fairytale footwear before I even opened the package. After I became acquainted with their appearance, I discovered a few details I liked about how these boots looked.
-- I ride horses on a regular basis and these looked like awesome riding boots. The leather is supple and this insole is lined with sheepskin, meaning I probably wouldn't have to wear the traditional riding socks with these. The sheepskin wicks away sweat while keeping my feet both warm and cool at the same time -- something typical riding boots can't do.
-- The stirrup is very western! Sometimes I go all out with the cowgirl ensemble; therefore, my clothes have to match my purpose. The stacked wedge heel makes me think of walking into a saloon whenever I put these boots on.
What did I not like about the UGG Channing II Boot?
Almost everything else. There really didn't seem to be much sense to these boots. The zippered sides extend halfway up the shoe before they're stiched up and closed at the top of each boot's entrance. That doesn't seem practical to me!
Zippers aren't very appealing in appearance so I'm wondering what angle the manufacturer was going for. Did they think this would look cute? Do they think people need to let their feet breathe in certain places? This odd inclusion of the zipper threw me off of the whole appeal to the UGG Channing II Boot. I need boots that are made with sensibility in mind -- clearly, these weren't. However, I'll be keeping them because of their sentimental value (birthday gift) and the fact that I like the way they look in my western cowgirl gear.
________________________________
Video - the women's Channing II boot from UGG:
________________________________
For more info on the Channing or other similar styles, visit:
http://boots-boots-and-booties.com/ugg-channing-ii-boot/