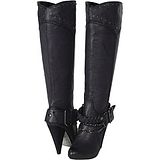 Naughty Monkey Bets On Boot - Come For The Name. Stay For The Cuteness.
Admittedly, I bought the
Naughty Monkey Bets On
Boot specifically because I thought the brand name was hilarious and cute. True, it's a steep impulse purchase at $80 bucks but I had the money to burn and it had been awhile since I splurged on something for myself.
After a few times of wearing them, this would be my review of both the good and the bad:
-- The Naughty Monkey Bets On Boot are perfect when paired with a tight pair of black jeans and an equally form-fitting black 3/4 sleeve top. It makes you look sleek allover, with an edge of sophistication and sensuality. The leather is high-quality and thick, but not too heavy. It doen't affect how I walk and the strap accent is a cute touch.
The heel added a good 4 inches to my height - putting me a little over 5 ft. 7, which is tall for me! The insoles are also lightly cushioned so I didn't have much foot-pain after dancing and standing for a few hours -- but I still wouldn't exceed 4 hours in these because the height of the heel made my toes spasm a little. An odd feeling!
The only con? When I first put these on, the zipper broke on the right boot. I know it wasn't my fault because I don't have super thick legs and I'm not heavy-handed when dealing with zippers on my footwear. Therefore, I searched the internet and discovered other women were having the exact same problem. Fortunately, it was easily fixed in my case -- I just had to replace the zipper.
Overall, I felt like I was oozing pure pheremones when wearing the Naughty Monkey Bets On Boot because of how many compliments and phone numbers I got that night. These are the ultimate pick-me-up because I received the best of the worst pick-up lines. Each one cheesier than the next but I knew it was because my feet and legs looked killer!
________________________________________
Video - get an all-round look at the women's "Bets on" boot from Naughty Monkey:
________________________________________
For more info on this boot style for women and others similar to it, visit:
http://boots-boots-and-booties.com/naughty-monkey-bets-on-boot/