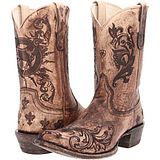 I'm not a cowgirl, nor do I follow the tradition of old farm-hands and their hardworking ethic. I'm just a 20-something woman with keen fashion sense that sometimes involves a cute pair of shoes -- case in point, the
Ariat Pegosa
boot. These boots are modern with a touch of the wild west that leads people to believe I'm a sweet southern belle. In truth, I'm a northern girl who can make boots work with the right summer dress and a few pieces of turqoise jewelry. Though, enough about what I am! Let me focus on what the key elements and benefits are about these boots.
-- Overall, a great pair of boots will be comfortable and diverse, which is exactly what these are. I can wear the Ariat Pegosa boot with anything in my wardrobe and instead of looking silly for trying to make an outfit work, I can rest assured that I always look fantastic. Most importantly, these boots don't pinch my feet in the wrong places so I don't have blisters to contend with at the end of a day.
-- These boots are perfect for playing dress-up! I have 3 nephews who love to play their version of cowboys and indians -- as always, I'm the damsel in distress, fresh from the saloon. The
Ariat Pegosa boot
is authentic cowgirl fashion that makes the kids feel like I've gone the extra mile to play their games. Needless to say, I'm the favorite aunt when I have these boots on.
-- I love the color! There were two hues available but I chose the 'stone-washed tan' because it fit the vintage cowgirl image. The color leans more toward brown in some areas, looking well-scrubbed and worn in a good way. The designs look like they've been freshly inked across each Ariat Pegosa boot, adding a a little further adornment to my entire ensemble. These are boots that tie the whole outfit together!
Video - the Ariat Pegosa:
*****For more information on the women's Pegosa boot from Ariat (and other comparable western styles), visit:
http://boots-boots-and-booties.com/ariat-pegosa-boot/