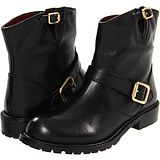 Marc by Marc Jacobs Moto Boot - Bad Boots Meet Biker Babe
The
Marc by Marc Jacobs Moto
Boot is hard to describe. Dubbed a "biker" boot, I thought these shoes would be perfect for my weekly road trips on my husband's Harley. Unfortunately, they never made it to the 5 mile mark.
These boots had the appearance of oil; that's what I thought of when I first saw them advertised because the leather is slicked to a polished shine and it looks like crude was poured directly into the shape of a boot. See what I mean by hard to describe? I immediately loved the straps and buckles, but there was something about the slick-look that made me cringe. I should have stuck with my first instinct and avoided these altogether, but as my husband says, I'm stubborn and never 'go with an initial impression.'
The Marc by Marc Jacobs Moto Boot is (at first) somewhat affordable at $350, then the faux leather starts breaking down and you're kicking yourself for paying that price. It all started with one strap -- the top one on my left boot. It tore while I was walking from my house to our motorcycles. About 2 miles down the road, at a little restaurant we always stop at, the heel on the right boot caught on my kick-stand and peeled back. When I examined it, the whole heel looked like it had been stuck on temporarily with industrial strength super-glue. Walking to and from the restaurant demolished the rest of that heel and it flopped as I walked -- completely defeating the purpose of having a great pair of biker boots. Why only wear one when the second is tearing to pieces?!
It was unfortunate that the Marc by Marc Jacobs Moto Boot couldn't handle my lifestyle, because I live a fairly calm and peaceful life for a weekly biker. Hardcore biker babes would have found these boots to be a bigger problem.
Video - give more of a check to this boot:
For more info on this boot and other styles to compare to it, visit:
http://boots-boots-and-booties.com/marc-by-marc-jacobs-moto-boot-626235/