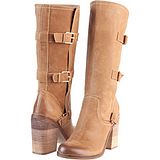 Farrah Fawcett was the queen of Charlie's Angels because she had the beauty and boots to go with every outfit. The
Fergie Mixture
Boot gives you the same opportunity -- ensuring you'll be the fashionista princess in any ensemble. Be a butt-kicking angelic wonder in a pair of boots that rival the infamous wardrobe ability of the lovely and late Miss Fawcett. Sending you a wink from her cloud in heaven, that is one angel who would be envious of your 1970's inspired fashion know-how.
Assembled with the finest high-quality distressed leather, these boots fit the contours of your legs to form a snug protective barrier that supports and protects. No bad guy will want to stand in your way! A block-stacked heel gives a boost of confidence, as well as an extra 4 inches in height to any woman who wears them. Packing a powerful kick of ferocious feminism, these boots have a custom padded insole to alleviate the pain of breaking in new shoes. Available in a rustic tan or brilliant blue, these boots will fit any woman from full to half sizes, fitting true to the curves of her calves and feet.
The Fergie Mixture Boot is a classic come to life for the new decade. Three easily unstrappable buckles rub from the ankle to the upper part of each boot. They can be strictly for appearance or used to make the boots tighter around certain parts of your feet or legs. The price for these boots can vary from the manufacturer's listing cost of $189, to discount store deals that could save you as much as 20%, excluding shipping. If you've ever dreamed of fighting crime in a pair of untamed boots, or if you just want to look like a wonder woman, the Fergie Mixture Boot is the right footwear for you.
_______________________________
Video - the women's Mixture boot from Fergie:
For more info on this boot, visit:
http://boots-boots-and-booties.com/fergie-mixture-boot/