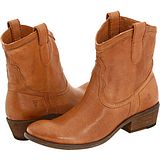 When I started dating an honorary rodeo cowboy, I knew there were going to be some adjustments to my typically punk-rock wardrobe. One of those adjustments has been skirts fashioned with embroidered southern belle blouses and a savage pair of kicks -- the
Frye Carson Shortie
Boot to be precise. I have to say the ensemble changes have been pleasant and I've become accustomed to strutting into the fair to the pitter-patter of show ponies. These boots have the wild western style to tie my entire outfit together.
I wanted to keep my affinity for brightly colored shoes, so I opted for these boots in an Eggplant hue. They're dark purple with tanned heel wedges and a few areas of casual scuff for a well-worn but still beautiful not-trying-too-hard appearance. For someone who's never been a cowgirl, the Frye Carson Shortie Boot makes me look like a professional and fashionable rodeo lover. I've received numerous compliments about these boots from people attending the rodeo and in the general fair circuit. I've even suggested them as comfortable and rodeo-ready to a few of the girls who do the show-riding!
As far as comfort is concerned, I'm of the mind that if the shoes don't give me blisters, they're amazing already. The
Frye Carson Shortie Boot
has caused me 0 discomfort, allowing me to talk across rough and tumble terrain without taking a stumble. The cute little emblem on the back heel is also a testament to my newfound love for all things western -- complete with little bull horns. As a size 6, it's hard for me to find a pair of shoes that fit "true to size" but these surprised me with their reliability and snug fit. If anything ever happens between my cowboy and me, I'm definitely keeping the boots!
Video - the women's Carson Shortie boot from Frye:
For more info on this and other similar styles of women's boots, visit:
http://boots-boots-and-booties.com/frye-carson-shortie-bootie/