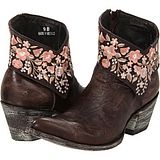 I've always been considered the tomboy amongst my group of friends, never the stylish or fashion-following type. This is a fact that always bugged my mom, especially when I would wear my once-in-awhile skirts with a good pair of sneakers. Therefore, she took it upon herself to buy me the
Old Gringo Mini Sora
Boot; a feminine version of an ankle-length pair of cowboy boots with floral patterns and easily zippered sides. Admittedly, I didn't like them at first because they were new to my feet and I had always been a simple flip-flops in the summer kind of girl.
With time (about a week) came love! These boots have been a blessing and I've started wearing more feminine outfits just to have something to pair them with. I've gone out dancing with my friends on several occasions while wearing the Old Gringo Mini Sora Boot and my feet never get sore. Initially, I did get one blister on my heel but it went away after a few days. I guess that comes with the territory of breaking in a new pair of kicks.
What I love more than anything about
these boots
is the way I'm allowed to convey my tomboyish personality with a touch of girly style. They're naturally scuffed on the heels to portray the fact that I'm not afraid to get dirty. While the floral pattern and ankle-length allows me to convey that I expect to be treated like a lady when the situation calls for it. I went from shunning the girly style of feminine footwear to being stunned by their comfort and beauty.
I heard that these were available in a different color and I fully intend to investigate that with my next paycheck. Not to mention, my mother is thrilled that I've chosen to wear her gift with such pride. She finally has the girl she could always go shopping with and I finally have the
Old Gringo Mini Sora Boot
; a long-lasting pair of boots that haven't let me down yet.
Video clip - a good look at the women's Mini Sora boot from Old Gringo: