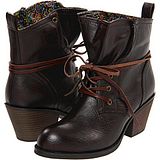 Rocket Dog Raid Boot - Sensible? Nope! Fashionable? Yep!
As someone who usually chooses her footwear based on durability and sensibility, I've never had much interest in what was fashionable. The
Rocket Dog Raid
Boot is the one exception I've made to this rule in the past year. At first, I was drawn to the price -- $64.95 (excluding tax & shipping) was inexpensive, unlike other brand name boots that would be too expensive to consider. The entire transaction from the decision to the reception went off without a hitch -- everything was in perfect condition and the shipping fees weren't more than $5. You may be wondering what a sensical woman like myself thought of such a funky pair of fashionable footwear.
I thought the Rocket Dog Raid Boot was so cute! It had patches of offbeat colors on the interior with a plush purple-tinged insole. I opted for these boots in black but I could easily change-up my outfit by pulling the interior material towards my shins. The introduction of this color would give my jeans a whole new look -- making me feel bold and more self-confident because I was wearing an in-fashion pair of boots.
The exterior of the Rocket Dog Raid Boot consists of faux leather; a fact that I was immediately drawn to because I'm a die-hard vegetarian and advocate for the rights of animals. The fact that a brand name could use something other than animal- skin really made a good impression with me. The boots are lace-up, wrapping around the ankle for a snug and comfortable fit. Wedge heels boost me from my average stature of 5 ft to almost 5 ft 3 inches in height.
These shoes aren't sensible -- they were obviously made for fashion purposes only. However, they offer a boost to my stature as I walk a little taller with self-assurance when I'm wearing these with a cute ensemble.
Video - check out the women's Raid boot from Rocket Dog:
Find this boot and others that have a similar style:
http://boots-boots-and-booties.com/rocket-dog-raid-boot/