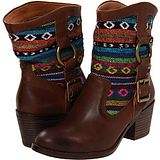 Lucky Brand Boxer Boot - Artistic & Inspire
Imagine this:
You've just opened an exhibit in the city's art gallery and you're making your debut. Decked out in a flowing summer dress that hits just above the knee, you choose the
Lucky Brand Boxer Boot
as your footwear for the evening. Throughout the night, you receive numerous compliments -- both on your stunning artwork and your Tex-Mex inspired boots. You glow with pride for your selection in footwear, as well as your undeniable artistic talent.
...Now come back to reality. Wouldn't you love to be put in the spotlight for footwear that makes you feel self-confident and beautiful?
The Lucky Brand Boxer Boot was constructed from a mixture of leather and knit/polyester material that's woven into a Southwestern pattern. The pull-on style makes them easily removed and slipped on, while stappy buckles on the side are strictly for fashion's sake. While these boots are only available in 1 color (brown/santia), there are a mixture of unique patterns and hues present in the knitted sides of each boot.
Instead of slouching where the softer material is, the leather holds the Lucky Brand Boxer Boot high -- ensuring these boots stay on your feet when you want them to. Wedge heels offer a 2.25 inch boost in height -- a blessing to short women and an added bit of stature to those who are naturally tall. These are also available in full and half sizes, from 5 to 11.
The
Lucky Brand Boxer
Boot speaks volumes about a woman's unique personality and colorful lifestyle. For artists, their personalities will shine through with every step they take. These boots provide a funky alternative to an otherwise bland outfit or event. They're a conversation piece that all around you will appreciate. Diverse and comfortable, the Lucky Brand Boxer Boot is something no woman will regret wearing.
Video - check out the women's Boxer boot from Lucky Brand: