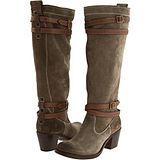 Brush up on your pirate history with the
Frye Jane Strappy
Boot; a piece of footwear that would be the envy of any fair lass, traveling gypsy, or cut-throat wench. These boots grab your attention with a catchy name -- placing emphasis on "strappy" to indicate sensuality and a guaranteed snug fit. Constructed from several types of unique fabric, the main ingredients of this design are a mixture of suede and leather. Wrap-around straps keep the boot in place near the ankle and calf, while vintage buckles add to the overall appearance of classic beauty. A pull-strap on the back of each Frye Jane Strappy Boot makes it easier to slip on and off.
Custom cushioning and a padded insole enhance arch support, protecting a woman's feet from the slightest discomfort. You could walk for miles in these boots and not suffer the consequences -- no sores, raw spots, blisters, or aching feet. The downside to these boots will come in the pricing of between $350-360 per pair; however, their reliability and long-lasting build makes each boot worth every penny. There's also the option of finding a discount retailer in hopes of getting the Frye Jane Strappy Boot for cheaper than the original manufacturer.
These
are boots that will keep you afloat when it feels like life is trying to sink you. Don't let yourself go through the agony of a mental shipwreck when your confidence can be boosted with the Frye Jane Strappy Boot. Each stride encourages independent thought and positive self-awareness. They're the feel-good boots for any woman who feels like a hag on her bad days -- these shoes will transform her into a pirate princess, able to navigate her life with relief and ease. There's no price too great when it comes to uplifting your mood.
Video - check out the women's Jane Strappy from Frye:
Get more info on this boot and some others with similar features at:
http://boots-boots-and-booties.com/frye-jane-strappy-boot/