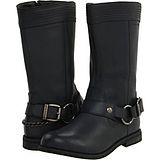 Have you ever felt the freedom of a motorcycle under your body, carrying you to unimaginably beautiful destinations? If so, what are you wearing on these excursions? Are you decked out in black leather and silver studs? Or are you the sexy tanktop and low-riders type of woman? Whatever you are or want to be, the
Harley Davidson Camille
Boot will complete your custom biker babe appearance. Constructed from genuine full-grain leather, these boots are edgy -- giving off the impression that the wearer is one woman who is always left untamed.
Perforated details around the upper portion of the boots provide a grip, making them easier to get in and out of. A small harness and metallic chain add to a classic glimpse into modern fashion, bringing an extra dose of savage style to an already fierce pair of boots. Instead of the naturally scuffed and casual look, the Harley Davidson Camille Boot was designed with sleek components -- presenting a clean and seductive appearance for any hardcore woman who wears them.
As far as support goes, the Harley Davidson Camille Boot has it all! A cushioned insole and padded rubber heel acts as shock absorbers, ensuring your feet are protected from everyday bumps in the road. They're a pair of boots that you can safely ride in all day -- trusting that your feet will remain cool, dry, and blister-free. The thick leather is lined with an inner cotton mixture, wicking away sweat and reassuring your feet remain moisture-free. This also allows for your feet to stay scent-free -- meaning no smelly shoes and no offending odors rising from your toes afterwards.
These boots give you one less thing to worry about when you're on a road trip, navigating your motorcycle over wide asphalt terrains. The Harley Davidson Camille Boot is the ideal shoe for any potential biker babe.
Video - check out the women's Camille boot from Harley-Davidson:
For more info on this boot, to compare prices, visit:
http://boots-boots-and-booties.com/harley-davidson-camille-boot/