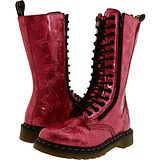 Have you ever seen a pair of boots that could instantly take your breath away? A pair that were a must-have as soon as they met your eyes? If there's ever been footwear that would fit the necessity category, it would be the
Dr. Martens 9733
Jewel Boot. Deemed "a modern classic" by the manufacturing brand, these boots are a combination of steampunk meets the Wizard of Oz. More of a delight to click together, they can take you over the rainbow and beyond with a cool holographic finish -- reflecting all your dreams in a multitude of colors to spark your outfit creativity. Available in a ruby or silver jeweled hue, the Dr. Martens 9733 Jewel Boot is unique with a combat-like fit, complete with laces and double zippers for snug positioning.
There's no reason to be afraid of lions, tigers, and bears in these boots -- a brutally beautiful appearance and sensible rubber treads make these kicks savage enough to ward off the wicked witch of anywhere. While these boots come in all women's sizes, it's advised to order at least a 1/2 size larger as the arch support in narrow and can be uncomfortable if ordered with the expectation of "true to size." Clunky enough to withstand a multitude of less-than-great weather, they're assured to keep your feet the warmest in colder climates. Pair with your favorite funky knee-socks for a toasty fashion statement that screams, "I'm proud to be original!"
The
Dr. Martens Jewel Boot
has proven to be both beautiful and sensible. Naturally, the aftercare may be a little daunting as these boots aren't machine-washable, but a rub down with gentle soap and water will do the trick. Follow it up with a little clear wax for a shine that will make an impression and catch the light in everyone's eyes.
Video - let the 9733 women's Jewel boot catch your eye:
For more info on this boot and some other (sort of) comparable styles, visit:
http://boots-boots-and-booties.com/dr-martens-9733-jewel-boot/