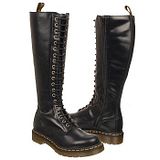 The
Dr. Martens 1B60 20 Eye Zip
Boot has a tall leg-hugging fit that won't gap even at the top. This gorgeous 15 inch knee high model was inspired by those tall, close-fitting military boots. Twenty metal eyelets lace up the front to make the fit secure. But you'll only do that chore once because there is a full side zip to quickly get in and out with the aid of a back pull loop. The toe is rounded to provide lots of foot freedom once inside. More comfort comes from a cushioned insole and a grooved, shock-absorbing midsole with this makers classic yellow stitching. The heavily treaded translucent outsole is PVC Air Cushioned and slip resistant built on a comfort last. A 1 inch chunk heel gives a height boost. You may pick this one from 3 colors - Black Buttero, Black Smooth or Cherry Red. The retail price is approximately $149.99
If you've never worn this brand try this tall lace up boot. Please continue shopping to review the following similar styles, too:Dr. Martens Leanne 20-Eye Zip Boot:
This brand is the stuff of legends and the Dr. Martens Leanne 20-Eye Zip Boot is living proof of why. The sleek leather upper in Black or Brown will mold to your foot and leg for a flattering fit with the full 20 metal eye lace up the front of the 16 inch shaft. Once you are secure inside you will take these off and put them on again using the full side zipper. The toe is a gentle almond shape for total forefoot comfort and the leather lining efficiently wicks moisture. The manmade outsole is a heavily textured wedge with a 3.25 inch heel and .5 inch platform. But this is one heeled boot that you will wear all day without having to agonize over sore feet. You'll want to wear with skirts, dresses, leggings or skinny jeans tucked in to show off this beauty. The cost is about $179.95 retail.
Frye Campus Lug Lace Boot:
You may want more than one Frye Campus Lug Lace Boot because of the variety of colors and finishes of the sumptuous leather foot and shaft. Just try to decide among Banana, Black, Chocolate, Saddle or Walnut. Metal eyelets and speed hooks lace all the way up the front but the full inside zipper will free you from redoing that each time. The inside is lined with a baby soft, smooth leather for fresh foot and leg environment and footbed is cushioned for further comfort. The durable rubber outsole is lugged for traction with a 2 inch chunk heel for great height extension above and beyond the over 15 inch leg flattering shaft. A quality look and proudly made in the USA for a retail investment of around $358.
Harley-Davidson Silvia Boot:
The Harley-Davidson Silvia Boot has a tough well-made look with a sleek feminine side. The luxurious full-grain leather upper has construction cuts designed to best enhance the feminine ankle and leg. Topstitching augments these curved and asymetrical lines. The Harley Davidson logo is subtly embossed on the side of the heel. The front laces up through metal eyelets but you'll have ease of access with the full side locking zipper and back pull loop. There is full length cushioning in the footbed and cement construction for ultimate durability and flex as you walk. The shaft height is just over 10 inches and the chunk heel is 1.25 inches with a .5 inch platform. This is a must have classic in Black for a retail cost of roughly $160.
For that tall, long legged look you'll want the tall
Dr. Martens 1B60
20 Eye Zip Boot or one of these others to add to your footwear collection. You might save from full retail costs on many of these by purchasing online, plus the shipping is free in most cases for these online buys.
Video - get a better look-see at this boot:
For additional shopping and other information on this boot - as well as the comparison styles listed above, visit:
http://boots-boots-and-booties.com/dr-martens-1b60-20-eye-zip-boot/