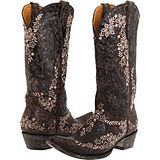 At first glance the
Old Gringo Sozey
Boot appears rugged due to the uniquely distressed and well textured finish of the leather foot and 13.5 inch shaft. On closer inspection there is an classy elegance born of the beautifully artistic floral embroidery that has been done over the foot, back of the heel and up the shaft. Topping it all off are tiny crystal stud accents interspersed all over for a subtle shimmer. This pull-on has two pull tabs atop the scalloped collar and smooth leather lining the inside with cushioning in the footbed. Durable leather outsole and pitched 1.5 inch heel with rubber cap assure long wear and good traction. Choose from two colors: Novularis #7 (black tone) or Novularis #9 (brown tone) for a retail price of roughly $725.
This Old Gringo boot is ruggedly chic and irresistible. Read on for more similar styles to get your boot shopping juices flowing:
Old Gringo Hanna Gayla:
The Old Gringo Hanna Gayla Boot has that classically sturdy boot appeal with a distressed finished to the leather upper, dual pull tabs atop the 13 inch shaft plus a ring and harness detail at the ankle. However, it's rough and ready cut is softened with some demure rows of wonderfully feminine floral embroidery accenting the pointed toe, lining the ankle harness straps and trimming the scalloped shaft collar and the pull tabs. Smooth leather lines the inside leading to a lightly cushioned footbed for total foot comfort. Outsole and 1.5 inch heel are tough leather to keep you strolling in style for the long haul. Available colors are Chocolate or Yellow and the retail cost is approximately $550.
Old Gringo Eagle Crystal:
Old Gringo works its own leathers to reach some unique end results as on this Old Gringo Eagle Crystals Boot. Its upper has a magnificent, pebbled visual appeal in the color Red with classic pull-on lines; pointed toe, exaggerated toe spring, scalloped collar and two pull tabs. Luxuriously soft leather fully lines the inside for foot and leg comfort. Durable leather outsole with 1.5 inch pitched heel with a rubber cap for stability. The icing on this cake-of-a-boot consists of hundreds of tiny Swarovski crystals forming images of eagles with outstretched wings over the vamp, at heel back and on front and back of the 13 inch shaft. These crystals have an Aurora Borealis effect, reflecting a full spectrum of light with movement. Spectacular!!! Your investment in this beauty is about $1,199.99 retail.
Old Gringo Cherry Blossom Joy:
Give your Western wear an Eastern slant with the Old Gringo Cherry Blossom Joy Boot. Gorgeous leather upper with a lightly distressed finish and an oh-so-soft, broken-in feel comes in a color of Brass. All the classic Western details are included in the cut; scalloped top of a 13 inch tall shaft, dual pull tabs, pointed toe and 1.5 inch pitched heel. The Eastern influence comes with the colorful embroidered cherry blossoms all over the foot and shaft, plus the Oriental letters for the word "Joy". A real conversation starter in any language. The comfy lining is smooth leather which also aids with entry. The outsole, tough leather with a rubber heel tap for secure grip. Yours for the asking and around $525 retail.
Own the Old Gringo Sozey Boot or any one of these other styles and you won't be sorry. An online buy may save you from paying full retail prices on many of these and your shipping in most cases is free.
Video - here is the women's Sozey boot from Old Gringo:
For more information on the women's Sozey and the other styles listed above, visit:
http://boots-boots-and-booties.com/old-gringo-sozey-boot/