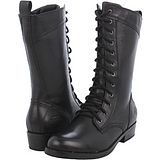 Ride or walk with attitude in the
Harley Davidson Silvia
Boot. Georgeous full-grain leather is used for this boot with curved construction cuts designed to hug the ankle and lower leg. The full lace up front secures a personal fit then the full side zipper and back pull loop will allow you in and out easily. The slightly asymmetrical collar atop the 10.25 inch shaft is elevated at the front for eye appeal. The entire footbed is cushioned and along with cement construction provides comfort, flexibility and long wear. The sturdy outsole and 1.25 inch chunk heel are grooved for great traction. Available in Black, this boot is tough with a feminine contour. The retail price is approximately $160.
You may have to have the Harley Davidson Silvia Boot now without looking any further. However, if you would like to see more like this, please continue:Harley Davidson Camille Boot:
No matter where you roam you'll feel well protected in the Harley Davidson Camille Boot. This riding-inspired boot has a luxurious Black leather upper with a well rounded toe for foot comfort. The fit is easy with a 15.5 inch circumference to the 11.5 inch tall shaft plus a full side locking zipper for a quick in/out process. This one has hardware galore with an ankle harness fastened with both a ring and a metal logo buckle. A small link chain loops around the heel back for a great finish. The shaft collar is accented with multiple rows of topstitching. Inside is a cushioned footbed for long wear comfort and there is great flexibility due to the cement construction. The durable rubber outsole and under 1 inch chunk heel are textured for grip. The cost on his one is roughly $180 retail.
Harley Davidson Jammie Boot:
The Harley Davidson Jammie Boot gives you that biker look but with some funk. The upper is that wonderful full-grain Black leather highlighted with silver-tone hardware. Construction style includes a toe cap and it's all outlined with topstitching. The front of the 9 inch shaft laces up with metal eyelets and speed hooks and a wide leather belt around the mid shaft features a metal logo buckle. Don't worry about spending time with all the hardware because there is a full side zipper and back pull loop. This is a very close fit at the ankle and up the lower leg resembling a combat boot profile. Lots of cushioning inside for easy all day wear. The thick rubber outsole and 2 inch chunk heel are well grooved for traction and have a red embossed rubber logo insert under the arch. A unique look for a retail cost of about $120.
Harley Davidson Women's Ashby Boot:
You'll want to ride with the wind in the Harley Davidson Women's Ashby Boot. This is a smart looking boot measuring just 6 inches tall from the arch with about a 10 inch opening at the top. A full side zipper with logo pull tab helps you easily in and out while maintaining that flattering close fit. There is a ring and harness accent at the outside ankle with silver-tone hardware and a metal logo plate stitched into the side of the mid-shaft. Soft lining inside makes it easy to wear all day. The rubber outsole is fully lugged with stars and bars and features a 1.75 inch chunk heel and .5 inch platform. This one in Black full-grain leather, says "free-spirit" with every glance. The retail pricing is around $130.
Get your riding groove on in the
Harley Davidson Silvia Boots
or any one of these other great looks. When you purchase online you are likely to save from full retail pricing on many of these styles, plus most orders qualify for free shipping.
Video - here is a good all-around look at the women's Silvia boot from Harley Davidson:
For more info on the Silvia (compare prices too) - or to check out the other styles listed above, visit:
http://boots-boots-and-booties.com/harley-davidson-silvia-boot/