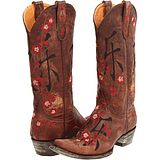 The Far East meets far West in the
Old Gringo Cherry Blossom Joy
Boot. The upper construction is of high quality leather with a very soft broken-in feel and distressed finish in a color named Brass. The dual pull tabs, pointed toe , a bit of a toe spring and a pitched heel speak to its classic Western breeding. The Oriental influence is splashed all over the foot and 13 inch shaft by use of colorfully embroidered cherry blossoms and the Japanese letters for "Joy". A smooth leather lining wicks moisture and helps you slide onto the lightly cushioned footbed. The hardy leather outsole has a rubber heel tap. Contrasts of two cultures and of a tough base with a gentle finish. An unusual combo for a retail price of roughly $525.
Hint at both your rough and tender sides with this absolutely gorgeous boot. If you'd like to continue shopping for more styles like this, read on:
Old Gringo Sozey Boot:
You'll be queen of any rodeo when you wear the Old Gringo Sozey Boot. The foot and 13.25 inch tall shaft are of super high quality leather with a textured finish that is indescribably gorgeous. Two colors are available: Novularis #7 (greys) and Novularis #9 (rich browns). Highly detailed floral vines are embroidered around the foot and heel and up the shaft and incorporate crystal stud accents for a magical glimmer. Two pull tabs at the scalloped collar and a smooth leather lining assist with entry. Footbed is cushioned for delightful all-day wear. The outsole is durable leather and there is a rubber cap on the 1.5 inch pitched heel. This boot must be seen to be believed. The cost is about $725 retail.
Old Gringo Violina Boot:
Whether or not you like to sing in the saddle, this Old Gringo Violina Boot will supply plenty of melody. The texture and distressed finish of the fine leather foot and shaft is a work of art in itself. Choose from Black/Grey, Bone or Brass colors. Next, this maker has taken a contrast embroidery color to create a field of musical notes and symbols that swirls over the foot, ankle, heel and up around the 13 inch shaft with a stylized violin gracing the shaft front. Two pull tabs aid with entry and the smooth leather lining feels heavenly on your skin. A tough leather outsole has a 1.5 inch pitched heel with rubber cap for grip. I can't sing enough praises for this beautiful boot. The retail on this one is around $595.
Ariat Pink and Sassy Soule Boot:
When your footwear is making statements, nothing speaks like the Ariat Pink & Sassy Soule Boot. These two makers combined all their power in this beautifully finished full-grain leather boot in a color named Wild Brown. If that's not enough, hot pink embroidery stitches dance over the vamp and heel with hot pink piping outlining the foot and pink lining visible at the scalloped collar top. The Gypsy Soule logo is beautifully screenprinted on the shaft front with Swarovski crystal accents and messages on the 12.5 inch tall shaft backs read "Love Hard" and "Live Fast". Even with all the sass, there is comfort technology built in to provide long-wear comfort. The hand-nailed leather outsole and 1.5 inch heel will last to broadcast this boot's message a long, long time. Your retail cost is approximately $499.95.
You'll love to cause a stir in the Old Gringo Cherry Blossom Joy Boot or in any one of these other styles. Should you decide to make an online purchase, you may save from full retail pricing on many of these. Your online purchase easily qualifies for free shipping, too.
Video - here is an all-round look at the women's Cherry Blossom Joy boot from Old Gringo:
For more info on this boot and the other styles listed above, visit:
http://boots-boots-and-booties.com/old-gringo-cherry-blossom-joy-boot/