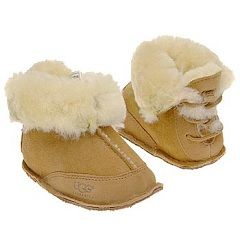 UGG is a household name and an icon of fashion for women (and some men) around the world. Every continent celebrates the innovative designs every season; however, there's nothing saying there has to be an age limit on this salute to amazing fashion. With the
kids Chestnut UGG boots
, little ones can mimic the fashionable fantastics of their parents with footwear to warm and nurture miniature toes.
Some of our anticipated favorites are...
UGG Infant and Toddler Boo Chestnut Boot (shown in top-left photo)
"Boo" is just a cute word, whereas "cute" would go a long way in describing every aspect of these cutie-patootie little booties. A natural plush expands over bare footsies to provide a nourishing sheepskin of moisture-free warmth. Smaller children always need to be extra bundled against cold conditions until they gain the ability to maintain and regulate their body temperature; these booties are a literal step in the right direction, keeping your infants toes snug and safe from chill.
_____________________________________
UGG Kids Ellee Chestnut Boot
Can you imagine your "mini-me" in a pair of these too-cute boots? Deemed ideal for footwear fashionistas in-training, each boot is lined with a pink-tinged insole of traditional sheepskin, guaranteed to keep her toes warm and comfortable. A cuffed length of plush material spills over the suede top, covering the 6.5 inch shaft in a wide ankle-length cuff. Adorned with a pink rubbed outline at the outsole, these are boots that every little lady will love.
_____________________________________
UGG Toddler Classic Short Chestnut Boot
Boys need beautiful boots too! Not just for the lovely lasses in your life, these boots are unisex and fashionable no matter what your tender toddler-age or gender. Wrapped in fashionable suede, this traditional pull-on has a furred insole of sheepskin for a moisture-free, odorless warmth that encompasses natural feet arches. A little above the ankle, each boot is seamed for a rugged appearance and perfect for heat-maintenance on tiny toes in every climate.